India's National cattier Air India is preparing for 550th Guru Nanak Gurpurab celebrations with historic livery "Ek Onkar" ੧ਓ on tail of its Boeing 787-8 Dreamliner. ੴ ( there is One Universal Creator) is the very first word mentioned by Guru Nanak, founder of the Sikh faith. #550Years
These pictures went viral on social media. This aircraft will be used on its first flight ✈️ from Amritsar to London Stanstead Airport on October 31 according to the tweet by Minister of Civil Aviation Hardeep Singh Puri.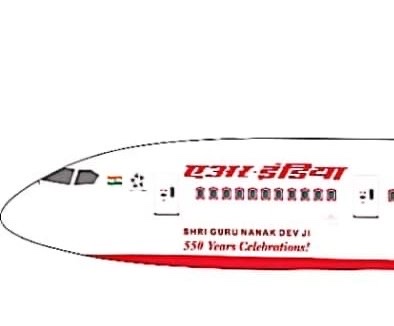 ir India will launch its flights on October 31 from Amritsar to London Stanstead airport with 256 seater Boeing 787-8 Dreamliner aircraft.
Waheguru Ji Ka Khalsa ! Waheguru Ji Ki Fateh !! 🙏

ਵਾਹਿਗੁਰੂ ਜੀ ਕਾ ਖਾਲਸਾ। ਵਾਹਿਗੁਰੂ ਜੀ ਕੀ ਫਤਹਿ ॥
ਏਅਰ ਇੰਡੀਆ ਨੇ ਜਹਾਜ਼ ਉੱਤੇ ੧ਓ ਦੇ ਨਾਲ ਨਾਲ 550ਵੇਂ ਗੁਰੂ ਨਾਨਕ ਗੁਰਪੁਰਬ ਦੀ ਵਧਾਈ ਲਿਖ ਕੇ ਸਮਾਗਮਾਂ ਦੀ ਤਿਆਰੀ ਕੀਤੀ ਹੈ।
ਇਹ ਤਸਵੀਰਾਂ ਸੋਸ਼ਲ ਮੀਡੀਆ 'ਤੇ ਵਾਇਰਲ ਹੋ ਰਹੀਆਂ ਹਨ।
ਇਸ ਦੀ ਪਹਿਲੀ ਉਡਾਣ, 31 ਅਕਤੂਬਰ ਨੂੰ ਅੰਮ੍ਰਿਤਸਰ ਤੋਂ ਲੰਡਨ ਸਟੈਨਸਟੈਡ ਲਈ ਹੋਵੇਗੀ।